Fundraising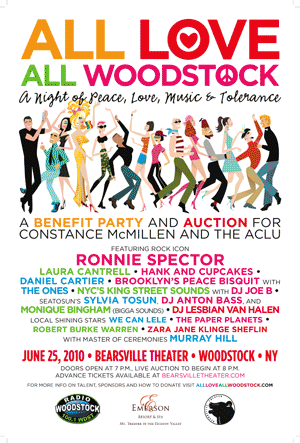 How does over $40,000.00 raised in 3 months sound to you? You like? Keep reading...Abbe loooooooves to raise dollars for charities and organizations dedicated to "fighting the good fight." Yours could be next!
Through Abbe Does It, Abbe prides herself on honoring the ideas and philosophies of the community in which she lives and loves. With the absolute conviction that all people should be treated with respect, dignity and love, Abbe created and launched "All Love, All Woodstock," a benefit concert for Constance McMillen and the ACLU, held on June 25th, 2010 in Woodstock, New York at the fabulous Bearsville Theater and featuring performances and participation from icons like Ronnie Spector and Lady Gaga. Proceeds from the concert, live and silent auctions and contributions from generous individuals and businesses alike all went directly to McMillen, the ACLU and the Onteora Central School District's Gay/Straight Alliance.
In planning ALAW, Abbe said she was motivated by McMillen's grace, bravery and determination in not backing down when her civil rights were violated by her school district in her home state of Mississippi. Abbe's infectious enthusiasm to bring McMillen, her family and their legal team from the ACLU here to Woodstock to honor them with a mind-blowing outrageous dance party was embraced town-wide and reported on in national media including Sirius XM radio, reaching over 2 million listeners. Abbe motivated area businesses, restaurants, performers- you name it! - to give generously of their time. She had the participation of school kids and their parents as well as drag queens and their royal courts...all in the name of love. Click here for Abbe's interview on Sirius.com's OutQ with Larry Flick.
Photo credit: Franco Vogt, who created this "Basement of Love" custom set, where ALAW attendees took our version of "prom pictures." We HEART Franco sooo much for all of his hard work on this project!
Through ALAW, Abbe and Abbe Does It formed a 501c3 not-for-profit foundation dedicated to fostering arts and education in and around the Hudson Valley. Abbe is able to "umbrella" other worthy organizations and offers them the cost-saving benefits of raising funds via a 501c3.
---
When Abbe created "All Love, All Woodstock", she knew that Gaga was one of Constance's favorite performers. While Gaga couldn't join us at the party on June 25th, 2010, she said hello and sent love through this video clip -- and debuted her "born this way" credo. We love Gaga -- and we were so excited when she and Constance got to meet via ALAW efforts at a concert (see Pix page). Here's to love!
---
Current projects include fundraising for The Woodstock Film Festival as well as overseeing fundraising for the scholarship program for The Paul Green Rock Academy, the newest venture from "School of Rock" founder Paul Green, as well as lending a hand in raising dollars and awareness for Feminist.com, The Woodstock Library as it builds it new cutting-edge Technology Annex designed by famed architect Joel Sanders and the restoration project at historically designated sculpture park Opus 40.